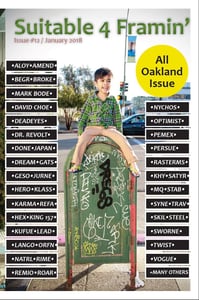 $

10.00
Issue #12 is our all Oakland special, featuring works by:
• Aloy, Amend, Begr, Mark Bode, Broke, David Choe, Deadeyes, Dr. Revolt, Done, Dream, GATS, Geso, Hero, Hex, Japan, Jurne, Keep Hood Yours, Klass, Lady Karma, King 157, Kufue, Lango, Lead, MQ, Orfn, Natrl, Nychos, Optimist, Pemex, Persue, Ras Terms, Refa, Remio, Rime, Roar, Satyr, Skil, Stab, Steel, Sworne, Syne, Trav, Twist, Vogue, and many others.
• Special sections devoted to East, West, and Downtown Oakland.
• Selected works from the Oakland Museum of California and Oakland Terminal Gallery.
• Freight and Trucks.
• Tags and Throws.
44 Pages, 5.5" x 8.5", Full Color
All orders come with extras (stickers, postcards, randomness, etc.)!!!