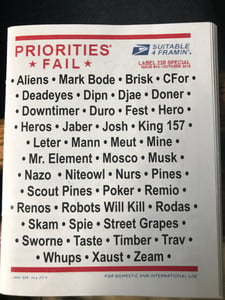 $

10.00
Issue #14 of Suitable 4 Framin' is here.
This is our long awaited 228 labels issue. All pages in this zine features works on 228 labels. Works include handstyles, throwups, characters, stencil works, and more.
• Features works by: Aliens, Mark Bode, Brisk, CFor, Deadeyes, Dipn, Djae, Doner, Downtimer, Duro, Fest, Hero, Heros, Jaber, Josh, King 157, Leter, Mann, Meut, Mine, Mr. Element, Mosco, Musk, Nazo, Niteowl, Nurs, Pines, Scout Pines, Poker, Remio, Renos, Robots Will Kill, Rodas, Skam, Spie, Street Grapes, Sworne, Taste, Timber, Trav, Whups, Xaust, and Zeam.
48 Pages
All orders come with extras (stickers, postcards, photographs, etc.)!!!